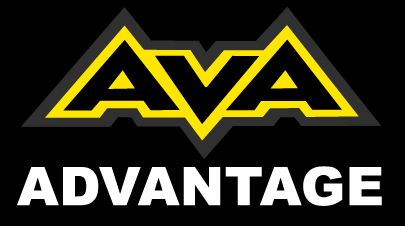 CARTRIDGE KIT
To purchase a Cartridge kit for your fork, Click here: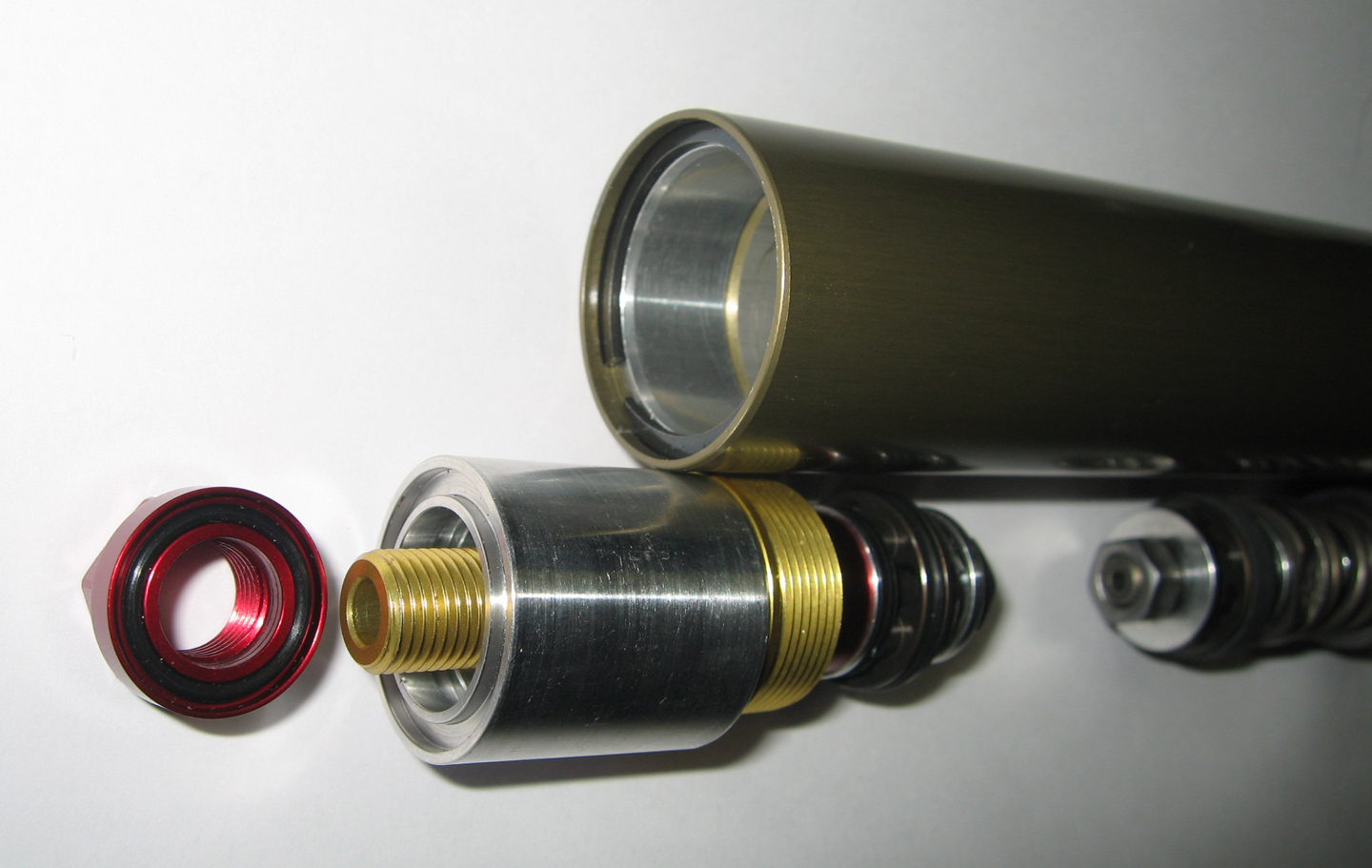 ABS and Compression Adjuster
ABS Cone Compression and Rebound Valving
Fork cap and Rebound Adjuster
Each cartridge kit can be installed in different forks with the optional adaptor kit which includes the fork cap, ABS adaptor, spring seat, and lower casting nut adaptor specific for that fork.
The internals are removed from the fork and replaced with our AVA Advantage Cartridge Kit similar to the DHF forks .
Kit consists of speed sensitive revalveable open bath damper (army green), base valve compression bolt adaptor (light green and light blue),
ABS system and slider tube adaptor ring (green and gray), Fork cap and rebound adjustment system (yellow) .
In most cases the left fork leg will not require any modifications, World Cup air and single spring forks.
For older dual spring forks the kit will use your existing springs and preload collars and additional preload adjustment spacers will be provided .
Single or dual damper kits can be purchased, in most cases a single damper is all that is needed, the other leg will be used a dummy leg for the spring and preload only.
Optional tune kit will include instructions, valving shims and valving componets for setting up the fork for any condition or rider ability.
Set them and forget them with a standard screwdriver.

Cartridge kit shown in a typical conventional fork
Shown below is the base compression valve with ABS (anti-bottoming system)
ABS system prevents bottoming by a hydraulic oil lock collar and tapered cone (green)
The light green adaptor is for mating the cartridge kit to the lower fork casting
Low speed compression adjustment is provived by a 22 click low speed needle
Adjustment is accomplished with a screw driver up thru the base valve adaptor bolt (light blue)
Compression damping is provided by a 20 mm reshimable 4 port valve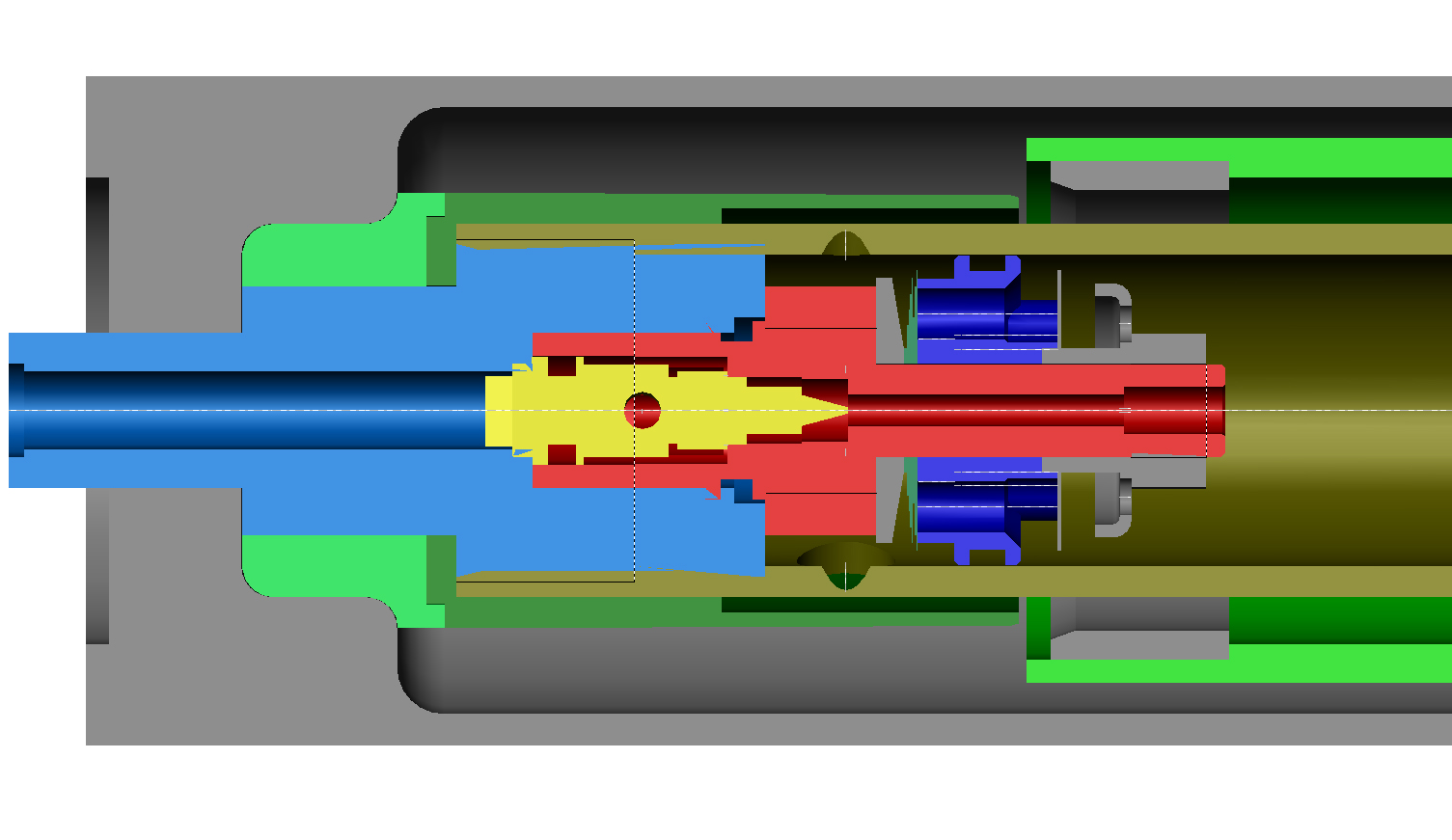 Shown below is the rebound, mid speed valves, and cartridge chamber cap
Low speed Rebound adjustment is provided by the low speed needle (shown in peach)
Rebound damping is provided by a 20 mm valve, shims can be customized to create any valving curve
Mid speed valving can be added to the check valve to reduce fork dive and prevent low speed blow thru
Anti-top out is provided by optional spring (not shown), either traditional MX style and negative travel MTB style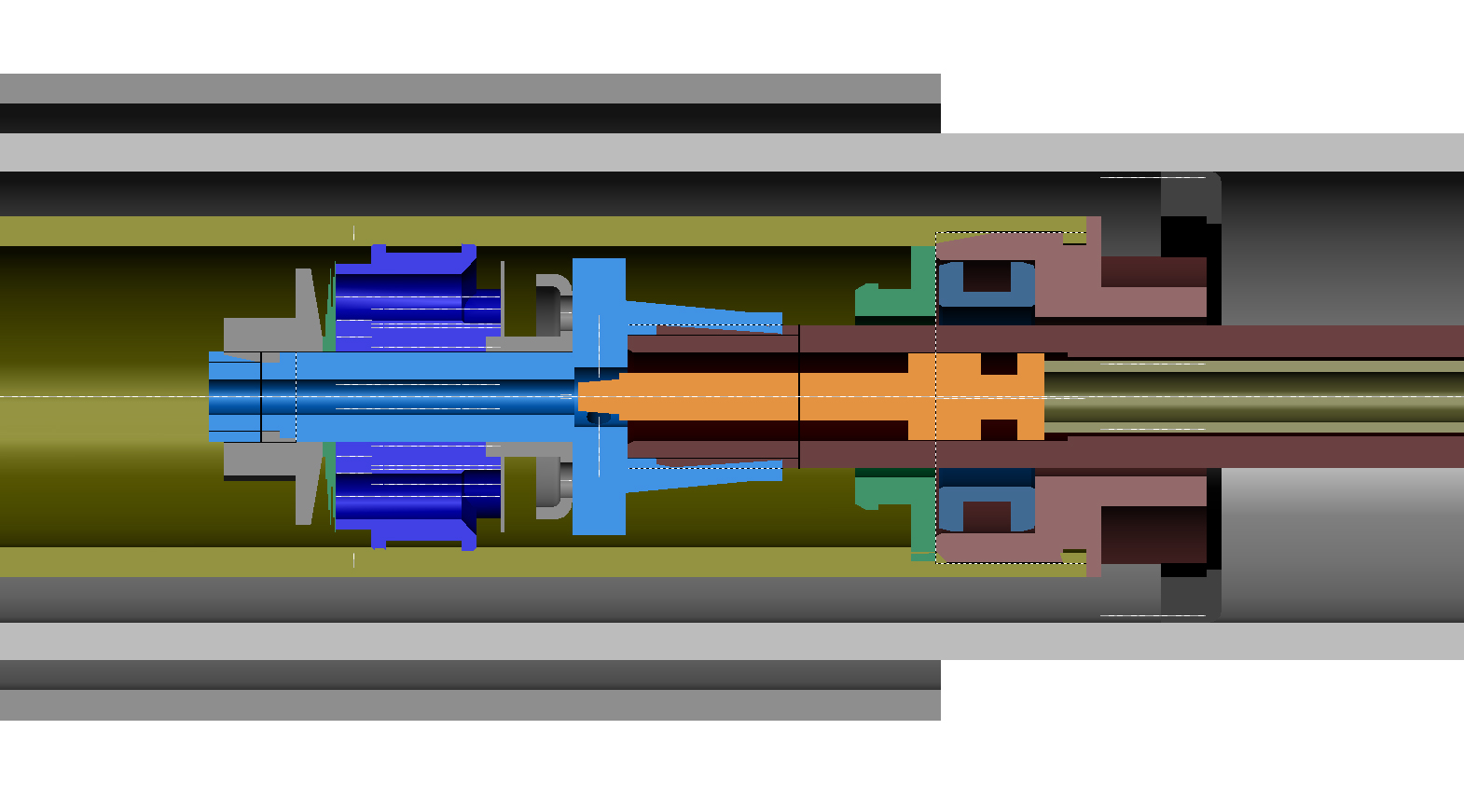 Shown below is the adjustable rebound fork cap
preload adjustment is provided by adjustable spacers not shown with dual spring forks