The basic structure, the shaft/body/reservoir are typical of all shocks out there. In some respects the hard chrome 12 mm steel shaft is much stronger and more durable than the aluminum shafts of many. The major issue is lack of quality damping, the main piston lacks midvalve damping and no rebound shims are being used as it is a one way piston. We convert this piston to a compression/rebound valved midvalve system and reconfigure the compression adjuster to take advantage of this more advanced damping design.
The current adjustment system of the DNM uses only compression shims and a bleed jet needle for damping system. The midvalve piston is redesigned as part of our mods to allow for rebound damping shims creating a more usable adjustment range, without that 1 click too slow or too fast feeling and is tuned to the rider weight so no more unexpected pogo stick landings!

The compression is revalved so the shims can create a midvalve effect, this keeps the shock from squatting and ridding low in the stroke but still feel plush on small chatter bumps. The high speed shims are beefed up to prevent bottoming and blowing thru the stroke on jump faces, while allowing square edged bumps to still blow off. This allows the shims to open gradually and allow us to set-up the midvalve and high speed valving based on the leverage of the frame and rider aggression.
Technical discussion: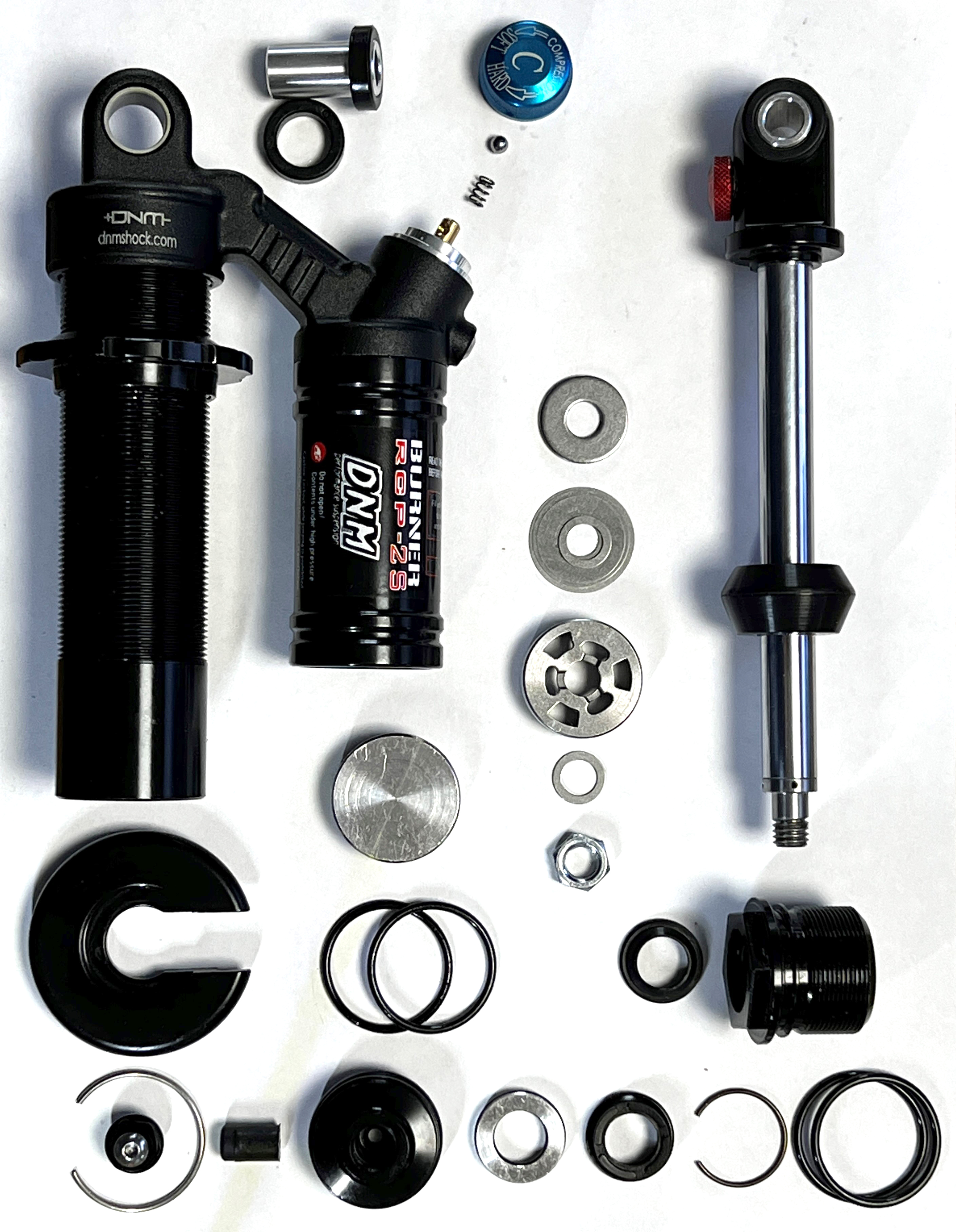 High and mid speed compression system is controlled by the custom valved speed sensitive shimmed compression main piston.
This is set-up to match the leverage and rider terrain.
Mid and high speed rebound is now controlled by a custom valved shim stack to match the riders weight (spring rate)
and the leverage of the frame.
Low speed rebound can now be fine tuned by the red rebound knob,
i.e. more usable positions rather than coarse tuning.
Includes custom revalve and setup for rider, frame leverage and conditions.

and printed set-up chart.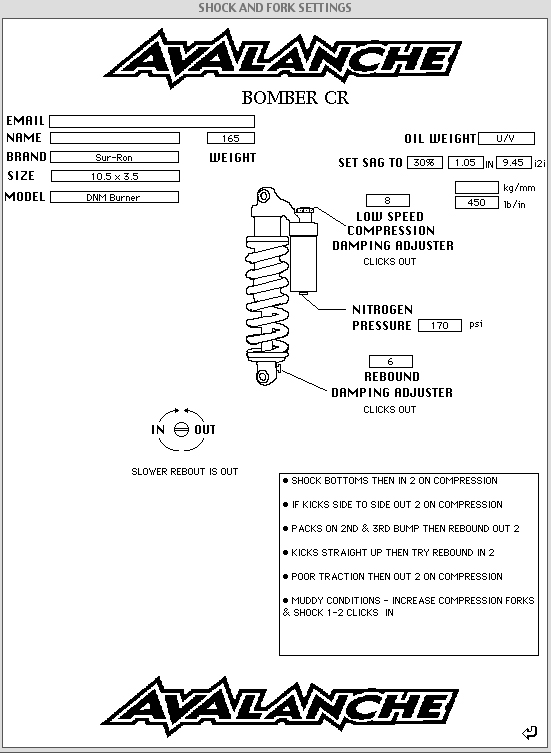 We will recommend the coil rate you need for your weight including the extras you have on your bike.
Also includes complete rebuild service, oil, nitrogen charge and typical wear parts* included in price.
New lower friction, higher temperature shaft seals, IFP seals and a more absorbent bumper.
*(Typical wear parts: shaft seal, reducer DU bushings, and o-rings)
**The shock must be in good working condition with no scratches or dents on moving part.
Service intervals will remain the same as before the modifications